Versa Spa Skin Care System - Just Arrived At Kix!!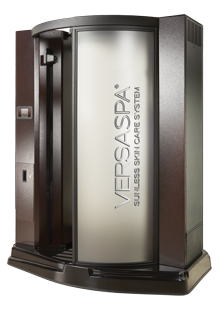 Flawless sunless results
Get your perfect off the beach tan in 60 seconds
State of the art technology
Superior sunless experience
Advance skin care treatments
The finest of all sunless systems in the industry
Not just a sunless tanning system – it is also a skin care system
Features Include:
Full body (clear or bronze) sunless treatment levels to suit all customers
Face only and/or legs only sunless treatments as well
Combination of tanning with skin care treatments before and/or after:



sunless prep hydration spray - balances ph levels & increases tanning results
anti-aging moisturizer treatments - extends tanning results contains DHA to extend tan, neutralizes after-tan odors and leaves skin healthy & revitalized
Benefits:
Pleasurable experience with every treatment
Mist free environment with every application
Guaranteed natural looking results
Flawless & even apllications
Air blow dry after every treatment
Full body, just face, or just legs treatments
Three health & beauty solutions to choose from
Ability to combo all soultion options in a single session
Come in and try it
Sunless Tanning
PREPARE TO GLOW...
click here for the best ways to prepare.
MAKE IT LAST... click here for ways to enhance and extend your tan.
FAQ... click here for the answers about sunless tanning.
KNOW EVERYTHING ABOUT SUNLESS TANNING.. click here